Have you seen the redesigned Squarespace 7 Cover pages landing page? Pretty cool effect, huh?

I've deconstructed the SVG line scrolling effect in a deconstruction, which might answer some of your questions,
but…
if you would like to learn in a more interactive way how to create this elegant SVG scrolling animation with a crossfade transition, then…
Watch The First Skrollr Workshop Video
What Is The Skrollr Workshop?
It is a premium online course going through a step-by-step process of building a one page website with a creative SVG line scrolling animation and fullscreen crossfade effect.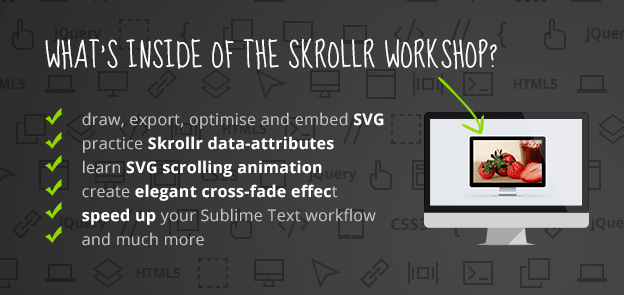 It walks you through the whole process, covering:
how to create, export, optimize and embed SVG
how to use Skrollr to create SVG scrolling animation
how to create a fullscreen layout for cross-fade effect
how to speed up your Sublime Text workflow
and much more!
It is a perfect follow-up to the Parallax Scrolling Master Class (PSM).
Take what you already know about Skrollr and build a larger project with a focus on SVG graphics and scrolling SVG animation.
Learning By Doing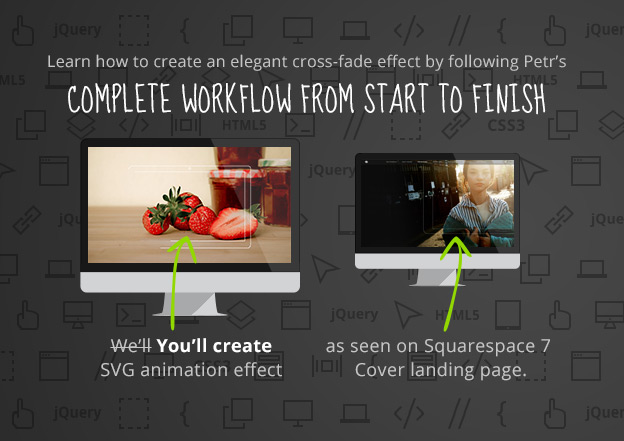 The whole class is interactive, so you can download a starting files and follow me step by step.
I'll uncover the whole workflow from start to finish. Answering questions such as:
Where do you start, mobile first or desktop layout?
How and why to turn scrolling animations off for mobile and touch devices?
How to keep your CSS stylesheet organized and under control?
Special Launch Offer For PSM Students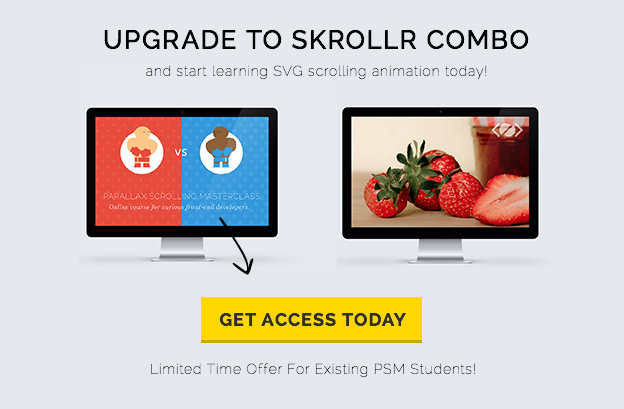 Have you already signed up to the Parallax Scrolling Master Class? For a limited time you can upgrade to Scrollr Combo and get an instant access to both of my online courses for a discounted price.
No need to wait for the launch date. Upgrade now!
Simply login to your account and you'll see the Skrollr Combo Upgrade offer in the store.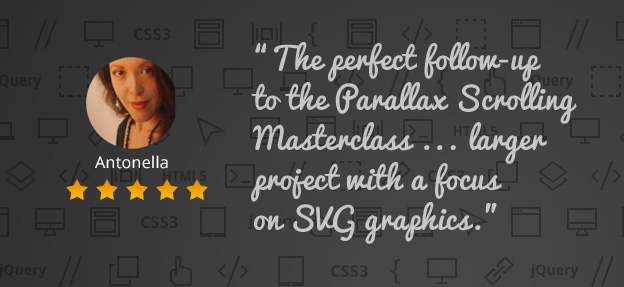 FAQs
If I sign up to PSM today, will I also be able to upgrade to Skrollr Combo for the discounted price?
Yes, after signing up to PSM you'll automatically see the Skrollr Combo Upgrade offer in the store (for a limited time only).
Is The Skrollr Workshop a stand alone course or do I have to also go through PSM?
Skrollr Workshop is a stand alone course and you don't need to also purchase PSM. However you will learn the most about Skrollr and scrolling animations by combining both courses.
Parallax Scrolling Master Class focuses more on Skrollr and all the data attributes.
Skrollr Workshop focuses more on a complete workflow of building a one page scrolling website from start to finish and SVGs.
Questions or feedback
Do you have any other questions regarding the Skrollr Workshop online course? Let me know in the comments below.
Like What You're Reading?
Sign up to receive my future tutorials and demos straight to your inbox.
No spam, Unsubscribe at any time.