Have you ever wanted to learn how to build a parallax scrolling website, but couldn't find a suitable online course? Do you think that to make a responsive parallax website is impossible?
Have you tried a few random tutorials but they got you nowhere?
Are you still confused which CSS properties to animate to achieve a smooth scrolling animations?
And Skrollr data attributes, OMG are they still so confusing?
Whether you are looking for a free or premium online resources when it comes to scrolling animations and animations on the web in general, you are at the right place.
Free resources

My blog is full of a free parallax demos, tutorials and tips on how to build a better parallax scrolling websites.
Even in the free demos and tutorials I am trying to provide a value and help you to get started with your parallax scrolling projects.
While you learn, I also learn. So it's a WIN WIN situation, isn't it?
By building these demos, tutorials, fun personal scrolling websites and projects for my clients, I have learned a lot.
And I have decided to package it all up into the Parallax Scrolling Master Class.
What is Parallax Scrolling Master Class?

It is a premium online course going through step-by-step process of building a responsive parallax scrolling website.
You will learn how to create your own scrolling animations from scratch.
No more reusing someone else's code and hoping that it will 'work' with your own creative idea.
Want to see what's inside of the class?
Signup below and you'll get more details about the class plus exclusive videos from the making of Parallax Scrolling Master Class.
You'll get a taste of what's inside.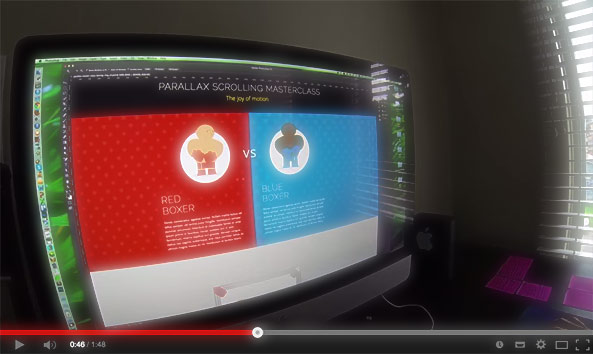 Learning by doing
The whole class is interactive, so you can download a starting files and follow me step by step.
There are no code snippets for you to copy and paste, you will need to learn the hard way, by typing.
Making a mistake is part of the learning, there is no shortcut (CTRL+C, CTRL+V). Learning doesn't work that way.
Clarity not quantity
I must admit, Skrollr data attributes were also confusing to me at the start.
Some of the demos on this blog would probably deserve a new revision.
But doing things over and over again, I eventually got it.
I promise you will get it too.
We will deconstruct every single data attribute applied to the final project, that at the end of the class you will be very comfortable applying data attributes to your html elements based on your own unique scrolling concept.
No more confusion whether to use bottom-top, top-bottom and what is the target-anchor actually used for.
Other useful stuff you'll learn:
how to stay organised in your CSS stylesheet
how to be in complete control over the timing of your animations
how to pause an element on scroll
how to make everything responsive
how and why to turn animations off for mobile
and much more.
What you'll get:
lifetime access to almost 3 hours of video tutorials
all demo files available for download
videos currently only available for online streaming (no option to download videos)
all your questions answered at the end of the class
all my knowledge and experience with Skrollr packaged in a cool neat way
You can read more about the class or purchase it on the product page.
Go to Parallax Scrolling Master Class
Conclusion
Whether you decide to buy or not, I still hope you'll find some valuable information on my blog.
Thank you for helping me to shape this course to what it currently is, by answering a survey over the last couple of weeks.
If you want more FREE tips on making a parallax scrolling websites and also get a sneak peak short videos revealing what's inside of the course, sign up below.
Giveaway
To close things off completely and to celebrate the launch of my first online course, I am giving away Parallax Scrolling Master Class to 3 lucky developers or designers.
Entering the giveaway is simple, just leave a comment about what is your favorite web app, tool or plugin and why. Good luck!
Like What You're Reading?
Sign up to receive my future tutorials and demos straight to your inbox.
No spam, Unsubscribe at any time.