Learn how to build interactive storytelling websites from scratch using ScrollMagic and GreenSock.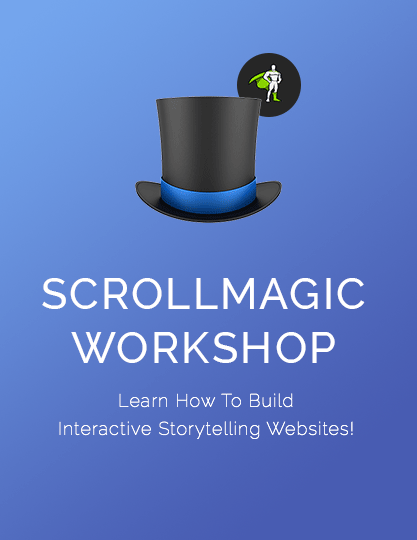 Are you ready to take your ScrollMagic and GreenSock animation skills to the next level?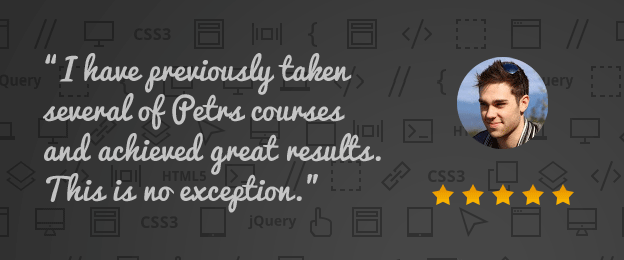 Upgrade Options
If you have already purchased some of my courses (Animation Combo or GreenSock Workshop) you might be eligible for an upgrade option.
Simply login to my site and look for the upgrade option in the store.
If you can not find it, get in touch.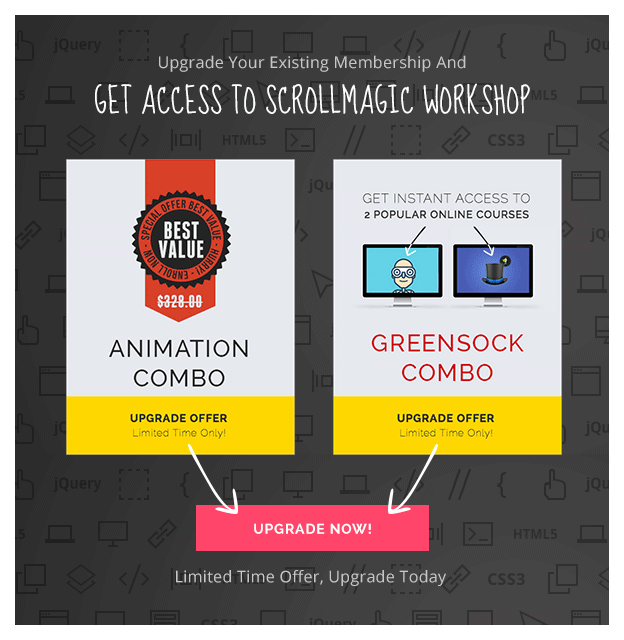 This online course will teach you how to build more advanced scrolling animations and cool effects using the power of ScrollMagic and GreenSock.
The course is perfect for beginners, but even if you are a pro you will learn heaps about ScrollMagic, GreenSock, advanced CSS layouts and creative scrolling animations.
You will be able to follow me step-by-step and get up to speed with ScrollMagic API very quickly.
All that you need to be a part of this online course is some basic knowledge of CSS, HTML and jQuery.
I am confident that after going through this course, you will be able to create something on your own, something unique and very creative.
If you really want to stun your boss or your clients with some creative hand-coded animations, sign up now to get started.
While you have my 100% money-back guarantee, there is nothing to lose.
Crossreveal Sections – Table Of Content
Learn how to cross-reveal sections. (railsware.com/web/)
Lesson 1 – 8:55
How To Use setPin
Lesson 2 – 9:08
How To Use CSS3 Clip Property
Lesson 3 – 6:17
How To Pin and Overlap Multiple Sections
Pen Reveal Effect – Table Of Content
Learn how to reveal parts of a product one by one. (fiftythree.com/pencil)
Lesson 1 – 8:29
HTML, CSS – Layout and PSD Overview
Lesson 2 – 12:55
Reveal Top Parts
Lesson 3 – 7:33
Reset Position Before Animation
Lesson 4 – 7:18
Reveal Bottom Part
Lesson 5 – 11:10
Reveal Remaining Parts
Awwwards Onepager – Table Of Content
Learn how to create an interactive scrolling website. (ihatetomatoes.net/awwwards)
Lesson 1 – 19:24
HTML, CSS
Lesson 2 – 12:58
HTML, CSS Layout
Lesson 3 – 12:46
HTML, CSS Nav
Lesson 4 – 09:52
HTML, scrolling container
Lesson 5 – 10:27
Navigation Timeline
Lesson 6 – 12:23
Trigger Animation when scrolling down
Lesson 7 – 06:00
Trigger Animation when scrolling down
Lesson 8 – 06:20
Setup CrossFade Animation
Lesson 9 – 19:39
Page Load Animation
Lesson 10 – 15:11
CrossFade Animation
Lesson 11 – 12:34
CrossFade Animation Continue
Lesson 12 – 11:02
CrossFade Animation Continue
Lesson 13 – 17:13
SVG Animation
Lesson 14 – 05:18
ScrambledText
Lesson 15 – 06:25
Fine Tuning Slide One
Lesson 16 – 05:56
Turning Animations Off
Lesson 17 – 02:00
Final
Lesson 18 – 11:30
Bonus – Navigation Click
What's covered?
a combination of advanced HTML and CSS layout with more complex scrolling animations
clean workflow, without any headaches
advanced ScrollMagic scenes with callback functions
advanced GreenSock animations and interactions
triggering a different tweens and timelines based on a scrolling direction
What's not covered?
mobile implementation (I recommend turning scrolling animations off for mobile and touch devices)
Intended Audience
designers and developers with a working knowledge of HTML and CSS
designers and developers with little or no jQuery/JavaScript experience
curious front-end developers trying to learn what's hot and boost their skill set
designers who would love to build their own scrolling animations
anyone looking for a more advanced ScrollMagic tutorials
anyone who wants to take their JavaScript animations skills to the next level
anyone who ever tried to use ScrollMagic and found it too overwhelming
Objectives
Explain ScrollMagic API in simple step by step demos.
We'll use jQuery for selecting elements and other user interactions.
Build 3 projects from start to finish.
Learn how to create a more advanced scrolling animations.
Learn by doing, follow Petr step by step, line by line.
Prerequisites
Basic JavaScript or jQuery knowledge is welcome, but not necessary.
All working files are available for download.
Exported SVGs are also included, no need to have Illustrator or Sketch installed to complete this workshop.
Working knowledge of HTML5 and CSS3.
Positive attitude towards learning new techniques.
A genuine interest in ScrollMagic, GreenSock and JavaScript animations.
Tomato lovers more than welcome!
100% MONEY BACK GUARANTEE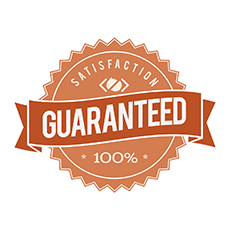 Watch the first 3 course videos and if you are not completely satisfied I'll give you your money back.
I am so confident that you will enjoy the course that you have 14 days to watch the first 3 videos, if you feel you are not learning enough you can enjoy my 100% money back guarantee.
Simply contact me for prompt refund of the full purchase price.