Learn The Basics Of ScrollMagic and Scrolling Animations!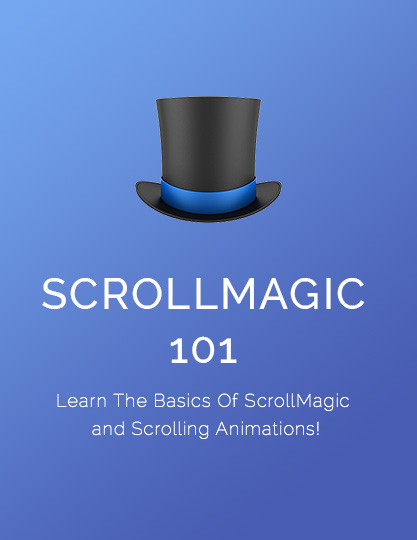 Are you ready to start learning the basics of ScrollMagic and scrolling animations?
This free online course will walk you through the ScrollMagic API and most of its components in a series of fast paced ScrollMagic tutorials.
ScrollMagic Tutorials – Table Of Content
Lesson 1 – 12:27
Controller, Scene and triggerElement
Lesson 2 – 5:00
Duration and triggerhook
Lesson 3 – 7:26
Reverse and each loop
Lesson 4 – 6:21
A Simple Pinning
Lesson 5 – 16:40
A Simple Parallax Effect
Additional Information
Total class duration: 48min
Free online course, with lifetime access.
Video files not available for download.
Learn at your own pace.
What's covered?
ScrollMagic controller, scene, durations, triggerElement, triggerHook, addIndicators, offset, .setPin, .setClassToggle, reverse, loop and more.
No need to have GSAP membership to enjoy this workshop.
CSS3 transitions triggered by ScrollMagic
Intended Audience
designers and developers with a working knowledge of HTML and CSS
designers and developers with little or no jQuery/JavaScript experience
designers and developers trying to upgrade their skills from Skrollr
designers who would love to build their own scrolling animations
anyone looking for a simple introduction to ScrollMagic API
anyone who wants to learn ScrollMagic but is not sure where to start
Objectives
Explain ScrollMagic API in a quick simple demos.
Learn how to create a basic scrolling animations.
Fast paced introduction of ScrollMagic API.
Prerequisites
Basic JavaScript or jQuery knowledge is welcome, but not necessary.
All working files are available for download.
Working knowledge of HTML5 and CSS3.
Positive attitude towards learning new techniques.
A genuine interest in ScrollMagic and scrolling animations.
Tomato lovers more than welcome!