Learn how to animate like a pro with GreenSock.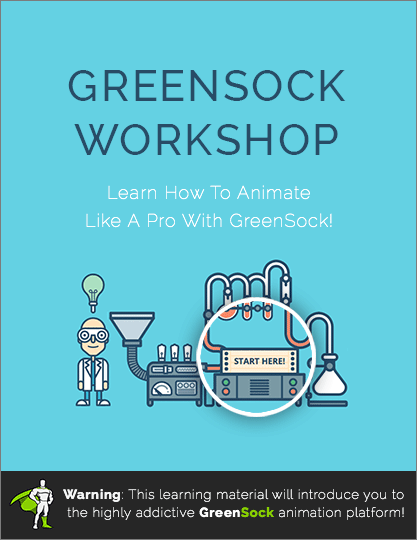 Overwhelmed by GreenSock?
Don't Know Where to Start?
Sign Up Now to Get the Same Kind of Clear, Easy Tutorials That Over 1,000 People Turn to for Fast Learning and Fast Earning!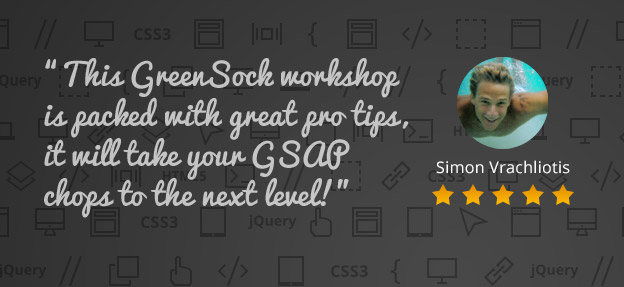 If you're a developer who eagerly wants to learn how to master the fascinating animation platform, GreenSock – and thereby become the web animation superstar you secretly fantasize about being – then listen to this…
My name is Petr Tichy (@ihatetomatoes), and I'm a professional developer – just like you. I'm not a professional ad writer, so please bear with me.

All I did was figure out a way to EASILY TEACH GreenSock to you – via an online course that I invite you to sign up for right now if you want to get virtually ALL your GreenSock questions answered!
I guess it's my teaching style. People say I'm very easy to learn from.
In fact, a previous courses of mine (on parallax scrolling) got REAL POPULAR, real fast.
The word spread, and soon I had over 1,000 students! (You can read my reviews here.)
They were very happy. The most common review said, "This course was 100% worth it. Highly recommended. I kick myself for not taking it sooner."
Are you a pro, or just getting started with JavaScript, jQuery, GSAP and SVG animations? It doesn't matter.
My course is perfect for beginners – because I don't "assume" you already know a bunch of stuff. Therefore, you won't be frustrated while watching my videos.
You'll be able to pick up on everything, right from the start, and speak the same language as everyone else.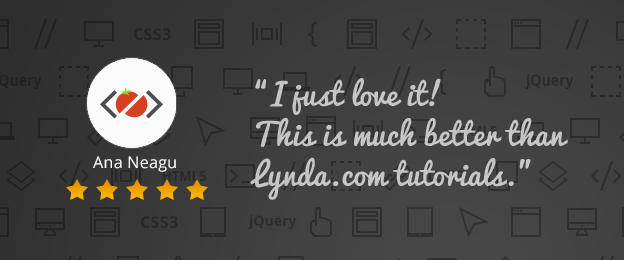 If you're a pro, you'll "brush up" on things you've forgotten.
But anyone who knows their way around HTML, CSS and has a basic jQuery knowledge will be fine.
But, in the more than EIGHT HOURS of premium GreenSock tutorials you get as part of my course, I will teach you how to create modern and attractive animations (using GreenSock) that will BLOW YOU AWAY.
Your clients will be so impressed. Or your employer. But you will definitely impress yourself, too.
I'll have you building THREE projects, from start to finish – step by step – as part of this hands-on learning process.
It guarantees that you get the "mastery" level you're seeking.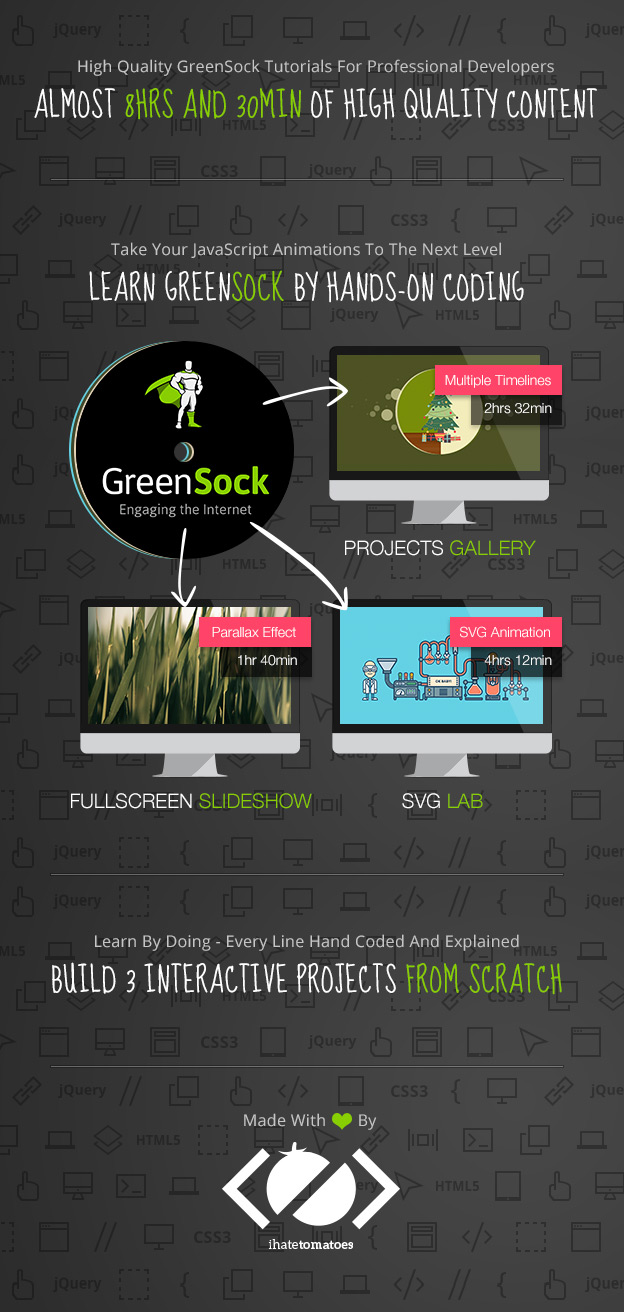 Every single step is explained in easy-to-understand (and PLAIN, PERFECT) English.
So go ahead and buy my course today. Invest the small amount of money. More importantly, invest the time. Do the exercises and sample projects.
You'll be favorably impressed. I guarantee it – Or Your Money Back!
You'll be able to enhance your skills, keep up with the latest trends, and discover what's HOT!
Sign up now to get started! And remember…
You're protected by my 100% Money-Back Guarantee of Satisfaction!
You have nothing to lose – except all your GreenSock and SVG animation frustrations!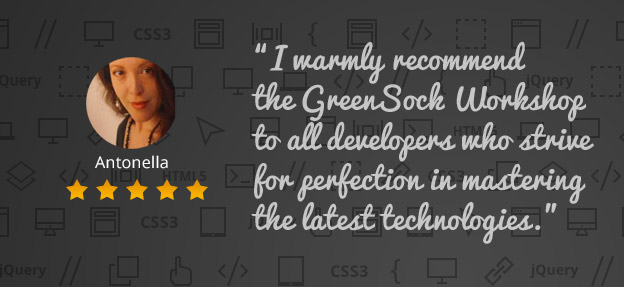 Now you can LEARN and EARN… instead of being forever overwhelmed by the complexity of it all.
Let me walk you through GreenSock, step-by-step, like I'm well-known for.
You'll be one of my new fans. I promise.
Table Of Content
Module 1
Projects Gallery – 02:32:35
Learn how to create an interactive Projects Gallery using GreenSock TweenMax.js.
Unit 1
Template HTML, CSS – 46:31

Unit 2
GSAP Animation – 45:43

Unit 3
GSAP Nesting Timelines – 16:33

Unit 4
GSAP Multiple Timelines – 16:28

Unit 5
GSAP Pause and Resume Timeline – 31:41

Unit 6
GSAP Rotating Circles Exercise – 12:07
Module 1
Fullscreen Slideshow – 01:40:11
Learn how to create an interactive Fullscreen Slideshow using GreenSock TweenMax.js.
Unit 1
Template HTML, CSS – 27:13

Unit 2
Creating Our Navigation – 18:59

Unit 3
Going To The Next Slide – tlDown – 17:20

Unit 4
Highlight Current Slide – setActiveSection – 12:38

Unit 5
Going To The Previous Slide – tlUp – 13:20

Unit 6
Horizontal Slideshow – Your Exercise – 04:11

Unit 7
Gallery Slideshow – Your Exercise – 19:50
Module 1
SVG Lab – 04:12:04
Learn how to export, optimize and animate SVGs using GreenSock TweenMax.js.
Unit 1
SVG Lab – HTML, CSS – 19:50

Unit 2
SVG Lab – Clear Stage – 33:46

Unit 3
SVG Lab – Clear Stage Exercise – 23:09

Unit 4
SVG Lab – Intro Timeline – 39:35

Unit 5
SVG Lab – Idea Timeline – 30:49

Unit 6
SVG Lab – Part 2 Timeline – 15:04

Unit 7
SVG Lab – Fill Tubes Timeline – 31:16

Unit 8
SVG Lab – Fill Tubes Exercise – 12:12

Unit 9
SVG Lab – Fill Flasks Exercise – 15:22

Unit 10
SVG Lab – Final Animation – 27:44
Additional Information
Total class duration: 08h 24min
One-off payment, with lifetime access.
Video files not available for download.
Learn at your own pace.
What's covered?
GreenSock TweenMax, CSSRulePlugin and TextPlugin.
That's it!
All 3 projects are only using these free GSAP plugins.
No need to have GSAP membership to enjoy this workshop.
What's not covered?
GreenSock plugins not listed above.
SVGDrawPlugin – our SVG demo uses TweenMax for animation.
ScrollMagic demos – that's a completely different beast.
Intended Audience
designers and developers with a working knowledge of HTML and CSS
designers and developers with little or no jQuery/JavaScript experience
curious front-end developers trying to learn what's hot and boost their skill set
designers who would love to build their own animations
anyone looking for a more advanced GreenSock tutorials
anyone who wants to take their JavaScript animations skills to the next level
anyone who ever tried to use GreenSock and found it too overwhelming
Objectives
Explain GSAP API in simple step by step demos.
We'll use jQuery for selecting elements and other user interactions.
Build 3 larger projects from start to finish.
Learn how to create a more advanced animations.
Learn by doing, follow Petr step by step, line by line.
Prerequisites
Basic JavaScript or jQuery knowledge is welcome, but not necessary.
All working files are available for download.
Illustrator files and exported SVGs are also included, no need to have Illustrator installed to complete this workshop.
Working knowledge of HTML5 and CSS3.
Positive attitude towards learning new techniques.
A genuine interest in GreenSock and JavaScript animations.
Tomato lovers more than welcome!
100% MONEY BACK GUARANTEE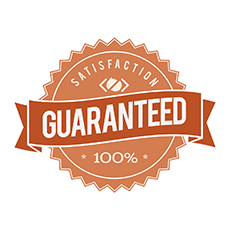 Watch the first 5 course videos and if you are not completely satisfied I'll give you your money back.
I am so confident that you will enjoy the course that you have 14 days to watch the first 5 videos, if you feel you are not learning enough you can enjoy my 100% money back guarantee.
Simply contact me for prompt refund of the full purchase price.