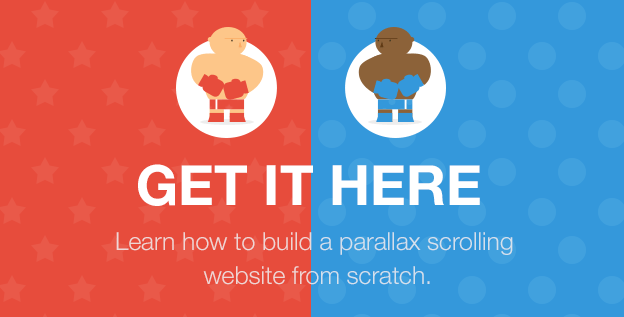 Special Pre Launch Giveaway Winner
Congratulations to Jimmy and thanks to everyone else who entered.
Get my free Skrollr tips and save heaps of time!
The data-attribute tip, will save you hours if not days or weeks of figuring out. PLUS you'll get the first 2 videos from the popular Parallax Scrolling Master Class!
Enter your email below and I'll send it right to your inbox!
Get An Access To The Class
You can finally join all my email subscribers who had a priority exclusive access to this course for a few days now. Read the reviews before you purchase or ask any questions in the comments below.
The Class Overview
Have you ever thought about building a parallax scrolling website, but didn't know how or where to start?
Have you ever been told by your boss or client to animate a few elements and backgrounds but weren't sure which jQuery plugin to use?
Did you wanted to be in full control of your scrolling animations and precisely set the right timing and transitions?
This is one of the first structured online classes teaching you how to build a parallax scrolling website from start to finish.
The Main Focus
The whole course is focused on understanding the general techniques used. By the end of it you will be able to build something on your own, rather than trying to copy an already existing structure/examples.
Who is this course for?
designers and developers with a working knowledge of HTML and CSS
designers and developers with little or no JavaScript experience
curious front-end developers trying to boost their skill set
designers trying to design for parallax websites or build their own
This course will only cover Skrollr.js and its data attributes, but the principles can be also applied when using other scrolling animation libraries.
What will you learn?
Skrollr data attributes explained in simple step by step demos.
A variety of transitions and effects.
How to "pause" a scrolling element.
What your options are when it comes to making it responsive.
Which positioning technique is the easiest to use.
How will you learn?
Through a series of blog posts with 7-15min short videos.
Step by step easy to follow tutorials.
Code examples taken apart.
Download and explore all source files.
Who will teach you in this course?

Petr Tichy is the creator of many parallax scrolling websites such as Merry Christmallax and Happy 25th Birthday Game Boy. Petr is the author of many popular tutorials for front-end developers and designers.
The parallax scrolling is still a very hot trend in the web design industry, yet there is so little good quality educational material online on this topic. I want to help people to get started and leverage this hot trend on their own projects.
– Petr Tichy
Questions or feedback
Do you have any questions regarding this Parallax Scrolling Master Class online course? Let me know in the comments below or complete this survey.