Do you wish you could turn any of your creative ideas into a smooth parallax scrolling animation, without tonnes of headaches?
Are you ready to impress your boss or build an awesome scrolling site for your client?

I know exactly how it feels
I was also overwhelmed by the number of JavaScript plugins available.
I was also super confused by the Skrollr data-attributes, and frustrated because I didn't know exactly how scrolling animations work.
I have spent weeks and weeks writing demos, tutorials, and building scrolling websites (eg. Merry Christmallax, and Happy 25th Birthday Game Boy) and I wish there was a course like this that would've help me get started.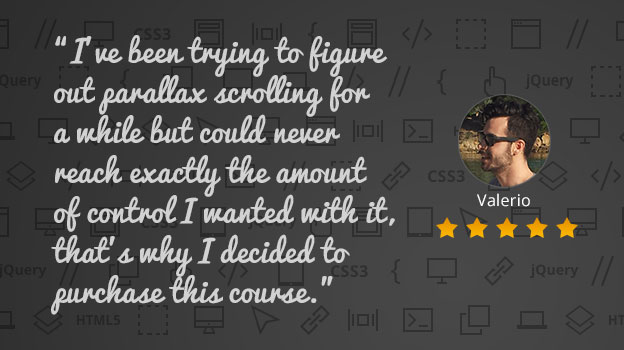 The most complete scrolling animation training
This course is the most comprehensive parallax training you can find.
It will remove any questions, guess work, and save you lots of time researching and figuring out.
Read the class reviews from students who already completed this course at the bottom of this page.
Build a scrolling animation without any headaches
We will cover everything you need to know to be able to build a custom parallax scrolling website from scratch.
The course is broken down into simple hands-on lessons, helping you understand the concept from the basics – and progressively explaining even the more advanced animations.